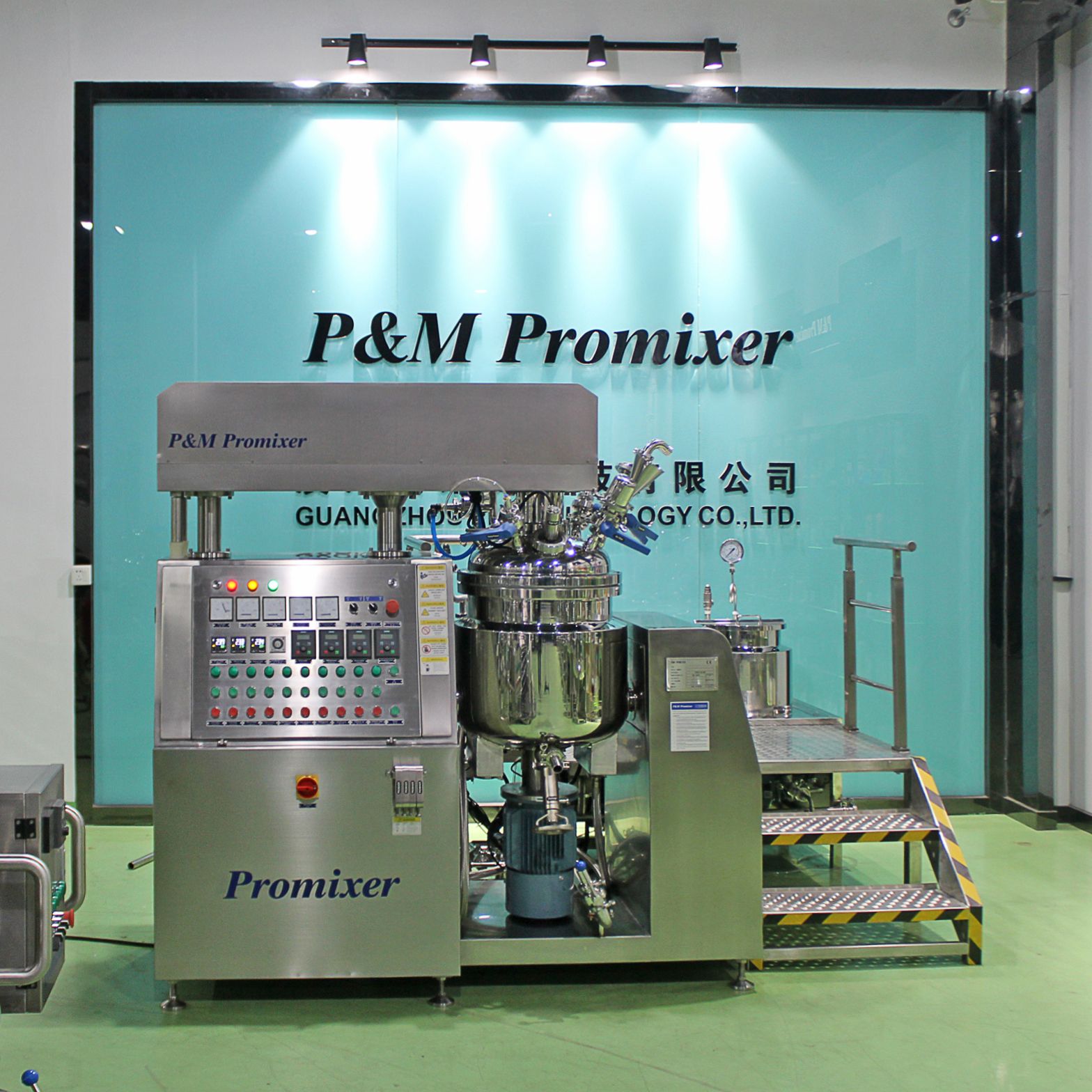 PVM-A 50L Bottom Homogenizer Emulsifying Mixer

Material:SUS316

Function:Mixing, heating and homogenizing

Brand Name:P&M Promixer

Mixing Speed:0~60r/min

Homogenizing speed:0~3000r/min

Certification:CE UL

Contact Us
Product Description
Video Introduction
Principle Features
Technical
Application Field
PVM-A homogeneous vacuum homogenization emulsification machine is the introduction of foreign advanced technology, according to cosmetics, ointment products, the system designed specifically for the paste, the machine from the water phase pot, oil pan, emulsion pot, vacuum pump, hydraulic system, Pouring system, electrical control system, work platform and other components.
1, the material can be continuous cycle of emulsification;

2, the high viscosity of the material more thorough, no dead ends;

3, external circulation emulsifier can replace the pump out of the material, and can cycle cleaning.

4, stirring with scraping edge mixing, the main pot can automatically lift the lid, the configuration on the homogenizer, tilting out of the way, to ensure maximum material completely discharged.
Type型号

Workingcapacity

有效容积

Homogenizer

均质马达

Agitator

搅拌马达

Vacuum pump

真空泵

Heating power

加热功率(KW)

KW

r/min

KW

r/min

KW

Limit vacuum

极限真空

Electrical heating

电加热

Steam heating

蒸汽加热

PVM-A-100L

100L

4

0-3600

1.5

0~63

1.5

-0.09

30

12

PVM-A-200L

200L

5.5

0-3600

2.2

0~63

2.2

-0.09

45

16

PVM-A-300L

300L

7.5

0-3600

2.2

0~63

2.2

-0.09

48

18

PVM-A-500L

500L

11

0-3600

4

0~63

3.85

-0.09

60

24

PVM-A-1000L

1000L

15

0-3300

7.5

0~52

5.5

-0.09

72

30

PVM-A-2000L

2000L

18.5

0-3300

11

0~45

7.5

-0.09

/

49

PVM-A-3000L

3000L

22

0-3300

15

0~45

7.5

-0.09

/

66

PVM-A-5000L

5000L

22

0-3300

18.5

0~38

11

-0.09

/

77